The most individual and extraordinary chandelier of 2022
A chandelier with extraordinary personality can add an air of luxury to a living space. This is especially true when blending ornate, shimmering modern chandeliers with individual yet striking sculptural elements, so that the scene space becomes even more impressive. Below Hopewell House brings high-end home designs, hoping that the chic furniture, spacious arrangements, elegant décor, high-contrast colour palette and exquisite home accessories will bring more inspiration to you.
This home example is from The Nature House in Lodz, Poland, a unique modern flat of over 900 square metres with rooms up to 4 metres high.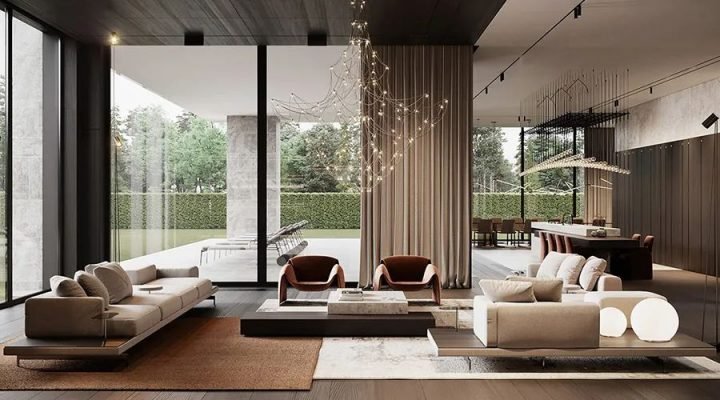 The first thing that catches the eye on entering the flat is the Q2 chandelier designed by Jan Pauwels for the Baxter brand. The chandelier is a great eye-catcher in the tall, spacious space, with the dark feature wall and ceiling creating a contrasting backdrop that greatly enhances the lighting effect.
Rich browns, silky lattes and creamy tones blend into a warm and inviting living room décor colour. The large floor-to-ceiling windows look out onto the scenic garden green.
Indoor plants bring a touch of natural greenery to the spacious and luxurious living room.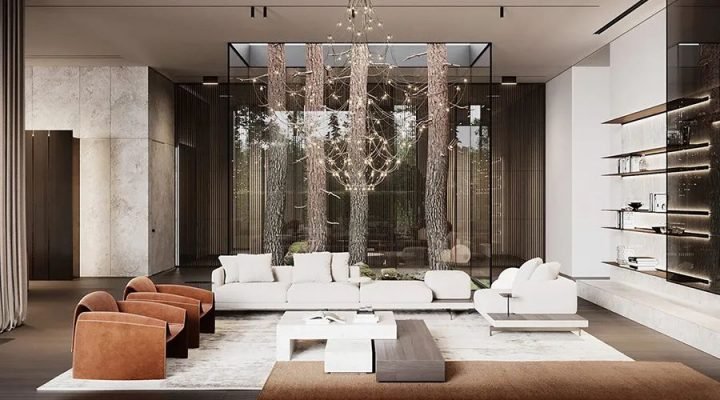 A modern nesting coffee table, surrounded by sofas and armchairs in the same warm and inviting brown and cream tones, and a square plush rug on the floor, complement the various elements of the living room space.
Behind the sofa is a mini courtyard separated by 4 sides of glass, which cuts through the atrium with asphalt rocks and 4 large thriving trees.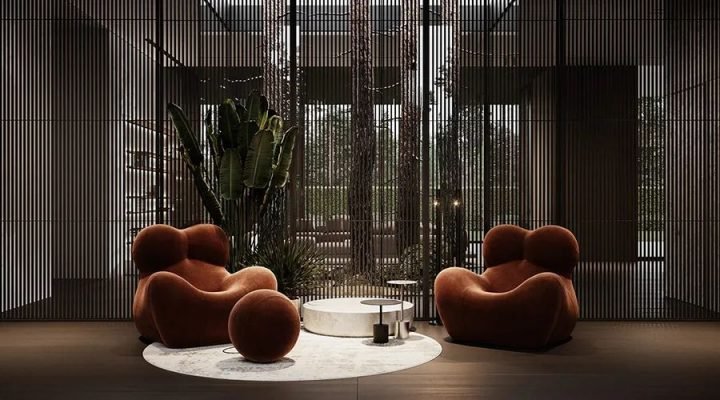 On the other side of the courtyard are 2 Serie Up 2000 armchairs designed by Gaetano Pesce for the B&B Italia brand. These 2 chairs are arranged in a lounge space separate from the main lounge area. The circular rug, the low round coffee table and the curves of the Up chairs are echoed. Together with the small side table and the modern floor lamp make this area a practical and comfortable corner for relaxation.